Root canal treatment is a dental procedure designed to relieve nerve pain and save the natural tooth by removing inflamed or infected pulp (nerve) inside of the tooth under anesthesia.
How do you know if you might need a root canal treatment?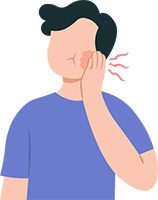 Some of the symptoms that mean you might need root canal treatment include:
Severe toothache
Pain on chewing and biting
Prolonged sensitivity to hot or cold foods/drinks
Pimple/swelling/discharge of the gums
Darkening of tooth
Cracked or fractured tooth
Benefits of a root canal treatment
Eliminates the need for tooth extraction, salvaging the natural tooth
Relieves the symptoms from an infected tooth
Prevents infection from spreading to other teeth or deeper space in the head and neck region
What does a root canal treatment involve?
A root canal treatment requires one or more appointments.
Firstly, local anesthesia is used to numb the tooth which is then isolated with a dental dam (a rubber sheet) to prevent saliva and other oral bacteria from contaminating the tooth. Decayed tooth structure is removed. A small opening is made in the nerve space to remove and clean infected nerve. Medication will also be used to disinfect the nerve space.
Once the tooth is thoroughly cleaned and symptom-free, a permanent filling is placed into the nerve space and the tooth is sealed to prevent reinfection. In most cases, you will need a dental crown to protect the treated tooth.
Following the procedure, you may experience temporary tooth sensitivity and discomfort once the anesthesia has worn off. These may be alleviated by taking pain relief medications.
What are the alternatives to root canal treatment?
Even though it is best to save natural teeth whenever possible, if the tooth is too badly decayed or deeply cracked, the only alternative is tooth removal followed by replacement with denture/implant/bridge.